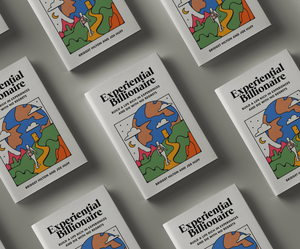 Wholesale, corporate gifting, and live events
Tools to help leaders and teams build lives, relationships and careers rich in experiences.
Inspiring Thousands Around the World
★★★★★

This book will help you adjust your view of your life, what you've been doing with it and what remains of it. I loved it and was immediately inspired to make changes.
★★★★★

This book has given me exactly what I need -> an actionable plan to experience life to its fullest by being able to prioritize both (my life and career).
★★★★★

This book is a serious reset and allowed me to savor life each day a little bit more with a few simple practices and principles.
★★★★★

They shine a light on what takes many decades to realize, but we have this gift of realization in seconds.
★★★★★

This motivational masterpiece is nothing short of inspirational brilliance.
★★★★★

The stories and wisdom in this book are literally life-changing. The authors have lived through intense experiences and sought out adventure at every turn, so they really know what it's like to be outside the comfort zone.
★★★★★

What's great about Joe and Bridget is that they don't overcomplicate the powerful lessons. They make you stand face to face with what matters most, and then they show you how to create the life you long for.
★★★★★

This book made me both laugh and cry! the Treasure Map exercise has already changed the way I'm living on the daily - with more intention and proactivity towards the experiences I want to have out of life.
Wholesale and Corporate Gifting Options
New Release
Hardcover Book
Experiential Billionaire: Build a Life Rich in Experiences and Die With No Regrets by Bridget Hilton and Joe Huff
Learn More
Treasure Maps
Card Deck
We create card decks of thought experiments and exercises to identify, rediscover, and execute on your personal dreams and goals. Designed to do individually, with a partner, or a group.
Learn More
In Person or Virtual Event Options
Backed by science and told through their own life stories, Joe and Bridget give leaders and their teams the actionable tools they need to navigate the path to a life rich in experiences, while improving mental health, relationships and connection in and out of the workplace.
Workshop
Investing in experiences has a bottom line impact on creativity, productivity, relationships, health, happiness, career growth, collaboration, and the overall success of businesses as a whole. Joe Huff and Bridget Hilton's transformational Treasure Maps workshop takes teams through a powerful and entertaining 60 minutes with long lasting effects.
Learn More
Driving Results and Inspiration for Global Brands
Don't take our word for it
I love the impact with social enterprise that Bridget and Joe are making throughout the world.
Bridget demonstrates that you can solve a problem and have a positive impact. An inspiring entrepreneur that shows business can really be an adventure.
I appreciate the good work that Bridget and Joe are doing. They're great!
The bottom line of business is really people, serving people. Bridget has this. She understands we can be part of a better world.
Bridget and her story is such an inspiration to me, our students, and the Los Angeles business community - she is helping us shape our future here at UCLA.
There's no one better to teach you how to get the most out of life than Joe.
Inspiring and downright awesome. Sincere thanks for your commitment and enthusiasm.
Bridget's story motivated our students to think about what they want their own life stories to be - and how to take the steps to achieve those goals.
Contact Us About Corporate Gifting, Wholesale and Live Events
Featured on 500+ Media Outlets